Welcome to the Nobunagun Wikia, a site dedicated to the anime and manga series, Nobunagun. Fans and anyone interested in the series are welcome to edit and to help this wikia grow into a comprehensive encyclopedia for all things Nobunagun!
Introduction
Humanity is being attack by monsters who came from outer space known as "Evolutionary Invasion Object" whose sole purpose is to take over the planet and destroy it, are immune to conventional weapons.
DOGOO, a supranational organization that has been behind closed doors in preparation for the attack of this monsters, has been extracting the genes of distinguished individuals through history in order to create weapons that can match the Objects, called E-Gene.
Shio Ogura, a Japanese high school student, is revealed to also be an E-Gene Holder when the soul of Oda Nobunaga awakens after she tries to rescue a friend.


Who is your favorite E-Gene Holder from the Second Platoon?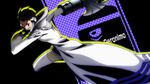 Geronimo, being an E-gene holder, is capable of channeling the famous indian leader Geronimo through an AU ball and in doing so is able to use an E-gene weapon resembling the personality/abilities of the indian leader, in Geronimos's case, she is able to a summon and use a big two sided axe or also called Labrys.
Read more >>

Loading RSS data...